Upcoming Events | Recent Events
UPCOMING EVENTS:
It's Here! You can get Wacky Ways to Succeed with ADHD
now on Amazon! What a fantastic collaboration of ideas from the Top Experts in the field of ADHD, including Coach Candace! Mention Candace's pages to her in an email and receive a free 15 minute consultation! coachcandace1@gmail.com.
Coach Candace is very excited to announce that she will be co-authoring "Wacky Ways to Succeed with ADHD", with many other ADHD coaches and experts! Thanks to Laurie Dupar for this wonderful opportunity! Wacky Ways will be out in the fall! You can purchase 365 ways to succeed with ADHD today! If you're interested in finding out more about my coaching please email me at coachcandace1@gmail.com.
It's that time of year again to get on your walking shoes and get ready for the Sixth Annual Frank R. Williams Scholarship Fund, Inc. Two-Mile Fun Walk! The walk will be held Saturday, April 25, 2015 at 8:00 am at Calvin Coolidge High School. The walk will start in the breezeway between the school and the Frank R. Williams Activity Center. For more information on Walk with a cause. We look forward to seeing you there!
Coach Candace adopted an adorable little pooch named Baxter! He is almost two years old and is a beagle dachshund mix! We are so excited to have a mascot for ADHD Coaching for LIFE and PLE Tutoring! If you're interested in adopting a dog, please check out Lucky Dog Animal Rescue! They are such a great organization and have so many wonderful dogs up for adoption! They have adoption events every weekend!
Sara, our past assistant, also adopted a dog from Lucky Dog Rescue!
December 4th, ADHD Coaching for LIFE hosted Scott Kollins, PhD, from Duke University! Dr. Kollins gave a community roundtable discussion on addressing clinical challenges in the diagnosis, treatment, and monitoring of ADHD in children and adolescents. This Community Roundtable series focused on the challenges of diagnosing ADHD in children and adolescents, and strategies to overcome these hurdles. The efficacy and safety of available pharmacological treatments to effectively manage ADHD in children and adolescents, as shown by recent clinical trial data, was also be discussed.
Coach Candace had the pleasure of attending the WISER Scholarship Lunch recently! It was pleasure to meet the two young men who won scholarships from WISER! At the lunch, a representative from the Shakespeare Theater Company spoke about their educational programs and how they benefit children who have ADHD and/or other learning disabilities. What a great way to end a wonderful year for WISER!
WISER (Washington Independent Services for Educational Resources) is looking for high school seniors to apply for their scholarship! Here is some information regarding the scholarship:
WISER's goals are to improve educational services and promote child advocacy by providing comprehensive resources to children and parents. To achieve these goals, WISER will: "Engage in various activities of a professional or charitable nature in order to disseminate information regarding the welfare of children and their special needs.
ARE YOU A STUDENT OR DO YOU KNOW A STUDENT WHO
IS a college bound high school junior or senior in the DC/MD/VA metro area ?
HAS a documented learning challenge ?
DEMONSTRATES leadership through a community service project(s)?
Visit the WISER DC website to download the forms today
Candace gave her presentation entitled "The Life Benefits of ADHD Coaching" at the Bethesda Library! It was a huge success with a great turnout. Thank you all for coming! Keep checking back for when we post the date of the next presentation!
Contact Candace at coachcandace1@gmail.com for more information. To see current specials and promotions click here.
RECENT EVENTS:
November 2014
On Thursday November 13th, Coach Candace gave her presentation on the Life Benefits of ADHD Coaching at Geneva Presbyterian Church on Seven Locks Rd in Potomac MD. The presentation was a success. It was well attended and lots of good information was well received.
October 2014
Coach Candace attended the LDAMC (The Learning Disabilities Association of Montgomery County) Regional Conference on October 24th here in Bethesda, Maryland! For more information, please go to the LDAMC website!
October 2012
Candace gave her presentation entitled "The Life Benefits of ADHD Coaching" at the Bethesda Library! It was a huge success with a great turnout. Thank you all for coming! Keep checking back for when we post the date of the next presentation!
June 2012
On June 14, 2012, Coach Candace gave her Life Benefits of ADHD Coaching presentation to the staff at the Kolmac Clinic in Gaithersburg, Maryland. The Kolmac Clinic helps those suffering from addictions, to recover and make a new life. Check out their website at: http://www.kolmac.com/!
May 2012
CHADD Regional Conference 2012
On May 19th, Coach Candace and Assistant/Tutor Sara went to the CHADD (Children and Adults with Attention Deficit Disorders) Regional Conference, held in Baltimore Maryland! The conference was wonderful and informative! The keynote speaker was Dr. Ned Hallowell, a leading expert in the field of ADD/ADHD. His talk was informative, passionate, engaging and humorous! Dr. Hallowell spoke about taking a strength-based approach to ADD/ADHD. Which means that the focus should be on the child/adult's strengths rather than their deficits. Dr. Hallowell likened the ADD/ADHD brain as "a racecar engine with bicycle brakes!" He reiterated that there are many famous/successful people who have ADD/ADHD and they never let that get in their way. Dr. Hallowell said that we must embrace ADD/ADHD and think of it as a blessing in disguise, not a curse. He spoke about how we should love, connect with, embrace, encourage and foster the creativity that comes from ADD/ADHD. Hearing Dr. Hallowell speak was inspirational! If you're interested in learning more, check out one of his books called Driven to Distraction!

Candace with Dr. Hallowell!
During the lunch hour, Candace and Sara listened to Dr. Kathleen Nadeau speak about Getting Your Brain in Gear: Brain-Friendly Habits for Good Daily Functioning with ADHD. Dr. Nadeau is a clinical psychologist who has over 25 years of experience working with children, teens and adults with ADHD. She is a CHADD Hall of Fame recipient for her ground-breaking work with women and girls with ADHD. Dr. Nadeau spoke about how eating a protein-rich breakfast is so cruical to brain development and usage during the day, and especially on days when the student is involved in testing or other high brain usage days! Exercise is also very key to keeping the brain healthy! Dr. Nadeau gave many great tips to keep your brain healthy! She was very informative, engaging and humorous!

Candace with Dr. Nadeau!

What do you do to balance your work and social life?
I just returned from a fantastic trip to Costa Rica with my daughter.
Coach Candace at the CHADD Conference
Coach Candace just returned form the CHADD Conference in Atlanta. She heard speakers like Dr. Russell Barkley, www.russellbarkley.com, and Dr. Samuel Goldstein, www.samuelgoldstein.com, talk about the new research and findings about ADHD. Go to their websites for more information.
Ground breaking research about the benefits of ADHD Coaching and college students is out. Go to the Edge Foundation for more information.
Speaking at the Geneva Day School of Potomac…Candace had a wonderful time presenting to and speaking with the teachers at the Geneva Day School. What a wonderful group of teachers. They are really concerned about helping each child with their special needs. We commend you for your hard work.
Candace met Rhett Palmer, www.rhettpalmer.com, at the New Life Hiking Spa, www.newlifehikingspa.com. Candace appeared on Rhett's Radio Show with Gary Sandman, CEO of Signature Supplements. The interview talks about ADHD and a holistic approach. Candace is on the Scientific Advisory Board of Signature Supplements. Go to www.signaturesupplements.com for more information.
Candace has also been appointed to the Advisory Board for the School for Tomorrow. To learn more about this fantastic school go to www.schoolfortomorrow.net.
November 2011
Coach Candace attended the CHADD Annual Conference November 10-12th, 2011 in Orlando, Florida. Click here to get more information on the conference and on CHADD!
October 2011
On Thursday October 20th, 2011 Candace gave a wonderful presentation about the Life Benefits of ADHD Coaching. It was fabulous and informative! We made some new friends and help to spread the word about ADHD Coaching! Here are some photos from the event:
A complete video of the presentation can be found at our YouTube page, ADHDCoachingforLIFE
June 2011
Yoga Retreat in Tuscany
Coach Candace traveled to Tuscany for a yoga retreat the summer of 2011. She posted her adventures on her Facebook page, friend her at "Candy Sahm" to check out her pictures and learn more about her adventure!
July 2010
Read about Coach Candace in ADDitude Magazine! Click here to see the article.
May 2010
Candace attended the Virginia Regional CHADD Conference in May 2010. For more information, please visit www.chadd.org.
February 2010
Coach Candace presented the ADHD Coaching for LIFE™ at the Learning Disabilities Association of America conference on February 17th!. For more information visit www.ldaamerica.org.
Candace welcomed Harry Rieckelman for his presentation ,"Who Is This Child Of Mine Who Is Nothing Like Me?", a presentation that reminds us that one size does not fit all!
Candace attended the CHADD conference in Cleveland, Ohio. For more information, please visit http://www.chadd.org.

Candace rocks Cleveland with other ADHD Coaches at the Rock & Roll Hall of Fame!

Candace walks to defeat Multiple Sclerosis. To learn more, please go to www.nationalmssociety.org.

October 2009
Multiple Sclerosis is a cause Coach Candace has supported for many years. Her mother, Anne Wortman Sahm was afflicted with the disease. Candy was just three years old and her mom was twenty-nine. Her brother Billy has this devastating disease today. These photos are from the 2009 7th 50K MS Challenge Walk which was held the first weekend of October. For information about MS, volunteering, or to make a donation please contact: www.nationalmssociety.org.
September 2009
Candace went to NYC on September 12th for the National Council on Alcoholism and Drug Dependence Recovery Rally! For more information go to www.ncadd.org

Candace takes on new coaching challenges.

Candace attended a health and wellness retreat in Vermont. For more information about this amazing place, go to www.newlifehikingspa.com.

July 2009
Candace, family and friends attended a National's Baseball game held  to raise money for Multiple Sclerosis research. They met 3rd baseman Ryan Zimmerman, whose mother has this devastating disease. Candace's mother also had this disease and her brother is currently living with MS. The fundraiser was a huge success.

May 2009
Candace made a presentation to Walter Johnson High School parents, teachers, administrators and students about the benefits of ADHD Coaching. See photos below.

May 2009
Candace attended CHADD's One-Day Baltimore Education Conference, "Ages & Stages of Learning and AD/HD" for educators, parents, adults, psychologists and healthcare providers.
Positive Learning Experiences Dedicates Their Library To Mariann Kumke. PLE's extensive ADHD Library has been dedicated to our dear friend, Mariann Kumke. See pictures from the dedication below.
CLICK HERE TO VIEW INVITATION.

April 2009
Dr. Gloria Vanderhorst speaks on ADHD in Women and Girls
Our speaking event with Dr. Gloria Vanderhorst was a success! We had great turnout. Dr. Vanderhorst has been in practice for over 30 years. She has provided psychological assessment for children and adolescents focusing on the early identification of learning disabilities and ADHD. She currently practices in the Washington DC area and has presented on Women and Girls with ADHD at CHADD meetings and school throughout the area.

March 2009
Candace and Adrienne Hand spent long hours writing proposals for the Learning Disabilities Association of America Conference and the Council for Exceptional Children Conference.

Caron Treatment Centers' 11th Annual Comedy Night featuring Mike DeStefano at the University of Maryland was a huge success. All net proceeds benefited CARON's Capital Region Scholarship Fund, providing patient aid for individuals who are in need of addiction treatment but do not have the financial resources to pay for their care.

Our talk by neuro-psychologist Dr. Judith Davis was a hit! We learned about training our brains and neuro-feedback. Attendees included teachers, counselors, and parents. We all enjoyed the wonderful food and had a great time.

WISER's (Washington Independent Services for Educational Resources) Spring Luncheon featured Candace Sahm on "The Life Benefits of ADHD Coaching" at Maggiano's of Tysons Corner. Candace made a great presentation to over 40 participants.

February 2009
Dr. Timothy Wilens' Lecture Was A Success!
On Tuesday, February 10th, TIMOTHY E. WILENS, MD, Director Substance Abuse Services, Pediatric Clinical & Research Program, Massachusetts General Hospital presented the lecture, Improving Diagnosis and Treatment In Children & Adolescents With ADHD. Great turnout, great food and great information made for a wonderful, insightful evening.

We Had Lots of Fun at PLE's Holiday Party!

November 2008
Candace's CHADD Workshop In Anaheim A Big Success!
In a lively workshop at the 2008 International CHADD Conference in Anaheim, California on November 14th, Candace unveiled the IEP/504 Student Accommodation Empowerment Form – a tool and a process that she developed to support students with ADHD in getting the full benefit of their accommodations. The form is a simple tool that translates the legal language into clear and actionable steps.
Program highlights included a PowerPoint presentation explaining the need for and benefits of using the form; student and teacher video interviews and real-time role plays. A highlight of the program was a video of Barbara Percival, currently a sophomore at Oberlin College. As an intern at Candace Sahm's Learning Center, Positive Learning Experiences LLC, Barbara conducted the research that laid the foundation for the Empowerment Form. Candace presented to a packed room of parents and teachers who were enthusiastic about the new approach to the IEP/504 process. For photos and more information, click here.
Paul Wellstone & Pete Domenici Mental Health Parity and Addiction Equality Celebration
Paul Wellstone & Pete Domenici Mental Health Parity Bill Celebration to commemorate the passing of the Mental Health Parity Act of 2008! Hosted by Capitol Decisions Inc. November 17, 2008 Washington DC. See photos here.
Candace Named 2008 "Unsung Hero" by the CARON Foundation.
Candace was recognized for her work raising awareness about the link between ADHD and addiction. The CARON Foundation is a well known national addiction recovery organization. According to Caron, the "Unsung Hero" Award recognizes individuals who work at the grassroots level and fight the daily battles, on the front line, in the war against drugs. These individuals give unselfishly of their time, energy and talents – that's Candace. For photos and more, click here.
April 2008
Candace appeared with several other recognized ADHD experts at Nancy Ratey's book signing of The Disorganized Mind, in Boston MA in April 2008.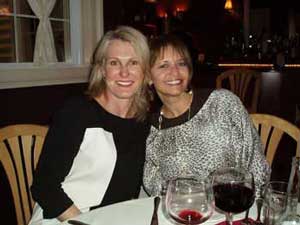 For more on Nancy Ratey, click here.
July 2008
Candace attended the annual ADDA National Conference in Minneapolis, MN, July 10 – 13th, 2008.
Candace On The Radio!
Candace recently headlined the local DC Spectrum radio show on 105.9FM on the topic "ADHD in Children and Adults: Early Intervention, Diagnosis, and Treatment, and Where to Find Support." She was joined by well-known psychologists Dr. Gloria Vanderhorst, Dr. Bill d'Alelio, Dr. Phil Pearl, Chief of General Neurology at Children's National Medical Center and Associate Professor of Pediatrics and Neurology GWU, and Dr. Jorge Rodriguez, Clinical Neuro-Psychologist also at Children's Hospital and in private practice.